Mobile internet with a large data volume is very easy in Montenegro.
Before Flying to Montenegro, I thought a lot about how the 4G/5G coverage in Montenegro would be and how I could get a good data tariff. Montenegro is not a member of the EU and therefore there is no roaming with EU-providers. This would have been very expensive.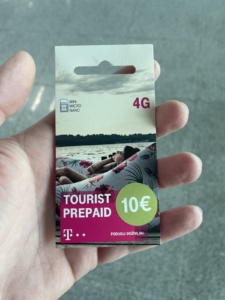 When you have arrived at the airport go to one of the Tabac shops inside the terminal and buy a 4G/5G tourist prepaid mobile card from Telekom.
You can also buy these prepaid data cards at any "tobacco shop" or supermarket.
This card costs 10,- € and is valid for 14 days with a data volume of 500GB! (You can also buy a card with longer validity – this will cost 15,- €).
You can also buy a 4G/5G data card (incl. phone number) from the other local providers. When you enter one of the Tabac shops, you will see a whole range of mobile phone cards.
When buying a 4G data card, the seller will ask you for your ID and take a picture of it with his cell phone – that's all the verification needed for a prepaid 4G/5G data card in Montenegro.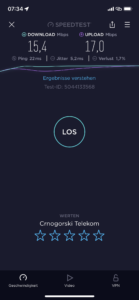 Internet speed test Montenegro
We simply inserted the card (triple SIM card) into an old iPhone and the card was immediately recognized as telekom.me. After the card is inserted, restart the device and afterwards you can use it immediately. We then always activated a hotspot via this iPhone and connected our two iPhones and the iPad as well as the MacBook to it.
In the morning I did a speed test of the internet speed via an app on my iPhone. Attached is a picture showing the result of the speed test.
I did the speed test again in the evening and came up with almost the same values.
For me, these are great values ​​and we have not had any problems or dropouts with the connections in Montenegro so far.
https://www.montenegro-urlaub.com/wp-content/uploads/8.png
0
0
Montenegro Urlaub
https://www.montenegro-urlaub.com/wp-content/uploads/8.png
Montenegro Urlaub
2022-03-05 09:10:03
2023-08-27 14:22:04
Mobile internet for tourists in Montenegro