Budva – Montenegro's oldest city on the adriatic coast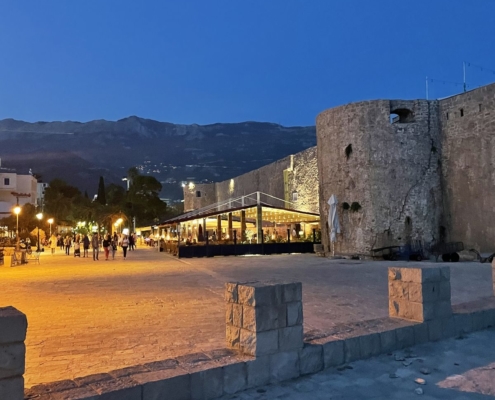 The town of Budva, with a population of around 23,000, is located on Montenegro's picturesque coastline and is one of the oldest towns on the entire Adriatic coast. Originally Budva was on an island, today it is connected to the mainland by a sandbank.
From 1918 to 2003 Budva belonged to Yugoslavia, today it belongs to Montenegro.
After an earthquake in 1979 almost completely destroyed the old town, the medieval city wall and all damaged buildings were restored true to the original. (In Austrian archives there were still plans that made it possible to reconstruct the old town in the Venetian style). Since then, the old town has been under monument protection and forms the historical center.
The stone walls built by the Venetians surround the narrow streets of the medieval old town ("Stari Grad"). When you walk through these thick walls and enter the old town with its narrow streets, you don't notice that a lot was destroyed here once. In the houses there are shops and restaurants, on the upper floors there are often apartments. It's lovely to stroll through the narrow, shady and very pretty streets, explore boutiques and street markets or stop at charming cafes. If you're lucky, one or the other street musician can also be found here, and they accompany the whole thing with beautiful sounds.
Today Budva is known for its colorful nightlife with many clubs and discotheques.
When is the best time to visit Budva? 
The weather in Montenegro is most stable between May and September. However, the beaches around Budva are mostly crowded in the high season (July & August). If you are looking for a parking space or free sun loungers on the beach at this time, you will have to search a long time. On the other hand all clubs and discotheques are open at that period and there is a vibrant nightlife. Simply "the place to be" for young party people.
In spring and autumn, the city is much more relaxed. Everywhere it is much emptier and mostly cheaper (food, deck chairs, entrance fees, etc.).In spring everything is still wonderfully green and everything is blooming, and in autumn the sea is still wonderfully warm. Of course, there is a risk that it is not always "pure beach weather" outside of the season. But there is so much to see and do there that isn't a problem at all.
Beaches around BudvaIf the beaches in Budva are too "crowded" for you, you can go in the direction of "Tivat". A few minutes' drive from Budva is "Jaz Beach" – it's big and you can always find a spot here. From there, a little further, you get to "Trsteno Beach". This is small, but has a very nice bay for swimming.If you drive in the other direction, you come to "Becici Beach". This is a few kilometers long, so that you can always find a place here.
These sights in Budva you should definitely not miss
The citadel of Budva-
city ​​wall
The Church of St. Ivan
The Church of Santa Maria in Punta
Trinity Church
Church of St. Sava
Statue of ballet dancer
Podmaine Monastery
Duljevo Monastery
This post is also available in: German